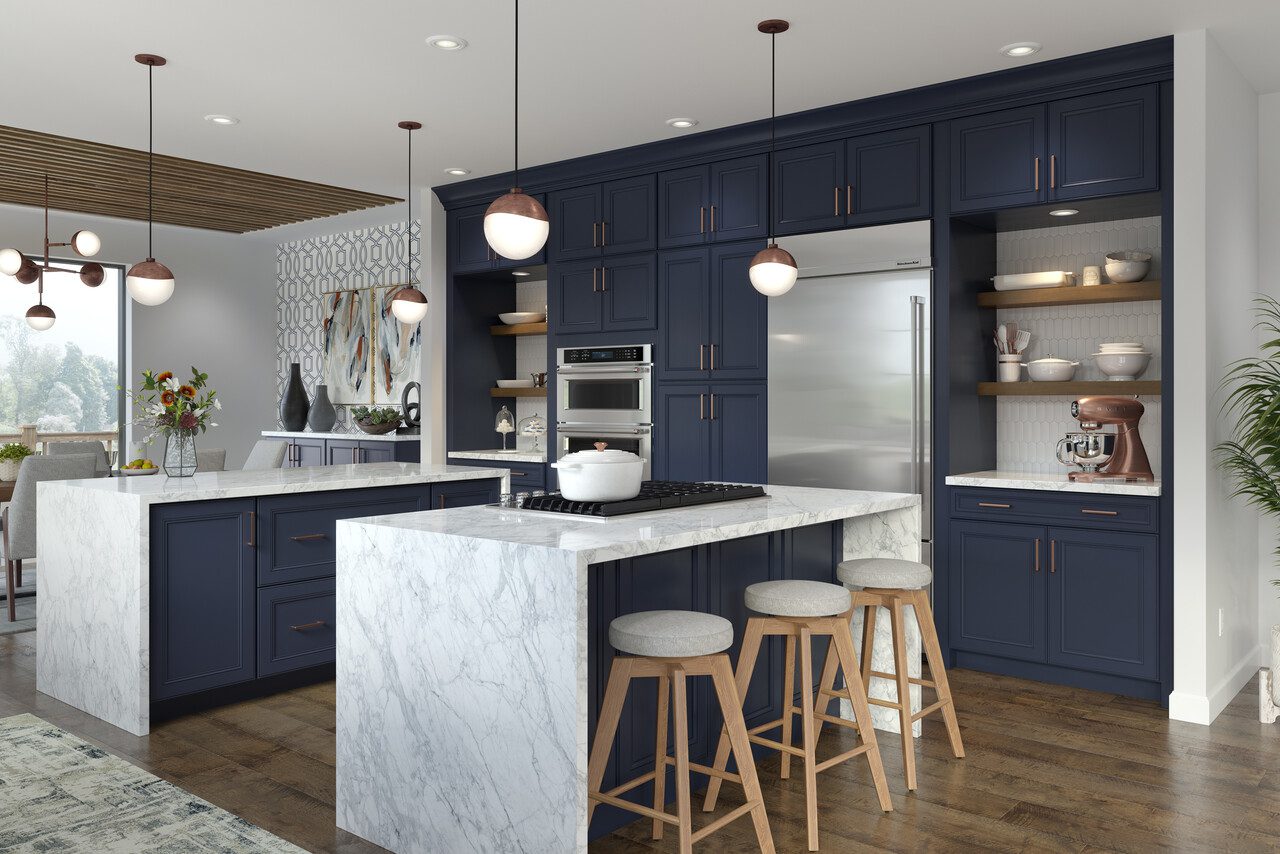 Kitchen Cabinet Design Trends in 2023
Cabinetry remains a focal point of any kitchen. It affects not only practicalities like storage and organization, but often serves as the centerpiece of the entire design theme. As we prepare for the coming year, we looked at the kitchen cabinet design trends that are setting the tone for kitchen design. From bold colors to special hardware, here are the latest design choices to watch for….
Natural Finishes
Finishes that emphasize wood grain offer a warm, rustic look that is naturally inviting. This timeless approach remains on-trend as we head into 2023. The possibilities are endless, whether it's used in flooring, accessories, or cabinetry. Consider natural wood on panel-ready appliances to elevate a room, especially when combined with other natural elements like a stone island or patterned tile floor.
Dark Stained Wood
Dark stained cabinetry may seem like a relic of days gone by, but is experiencing a resurgence as it lends a classic elegance. It can offer a noble counterbalance to the bold colors that are also experiencing a surge in popularity, and definitely brings a comforting spirit, reminiscent of traditional family homes.
Sustainable Materials
The sourcing and recyclability of materials are taking center stage in many homeowners' decision-making processes. Luckily, the popularity of earth-friendly materials means you don't have to sacrifice good design for a clean conscience.
Special Hardware
Unexpected kitchen cabinetry hardware can make a space seem cool and creative, showing off your unique personality. Not only can it make your space feel fresh and current, but with the right choice, it can be the perfect crescendo for the design style you're after. Consider non-traditional knobs or drawer pulls.
Bold Colors
Bold colors are having a moment. Perhaps the post-pandemic return to socializing and entertaining has created a desire for brave, enthusiastic colors. Bright yellows, oranges, and reds are all becoming more popular as homeowners look to add a pop of color to their kitchens. Consider doing this with accent cabinets or a backsplash.
Lower Kitchen Drawers
Kitchens with several lower drawers in place of cabinets are becoming increasingly fashionable. Drawers can hold a lot and slide out effortlessly. It's no longer necessary to crouch down, get on your knees, and rifle around for something. Additionally, extra-large cabinet hardware is the cherry on top in any kitchen; don't skimp or ignore this necessity.
Two-Toned Cabinets
Although two-toned cabinets may not seem like an obvious choice, they can give your kitchen a feeling of depth and creativity. This unique touch can bring your kitchen into the present moment and make a swoon-worthy visual statement. Try blue and white, gray and white, green and beige, or the timeless pairing of black and white to create dramatic appeal.
Warm Accents
Entertaining can be one of life's great pleasures – when in the right space. Creating a setting where guests can feel comfortable and at ease is essential. This can be done with painted wood cabinetry and vintage handles in copper or antique gold, and by using warm colors and textures to create a special environment within your kitchen area. Wrap it up with vintage-feeling additions like copper pots and linen napkins.
Need Some Inspiration? Let us help!
For over a decade, Premium Wholesale Cabinets of Arizona has impressed clients with unmatched service and superior skill. Locally owned and operated, our services include bathroom and kitchen renovations or new builds, with custom cabinet lighting, countertops, hardware, and more. We strive to make your living spaces functional and beautiful at a price that suits your budget. While implementing kitchen cabinet design trends and more to ensure that your design is up to date and stunning. Let us help you update your space with ease from your first phone call through project completion. Count on us for inspiring cabinetry custom tailored to meet your vision, in 2023 and beyond!