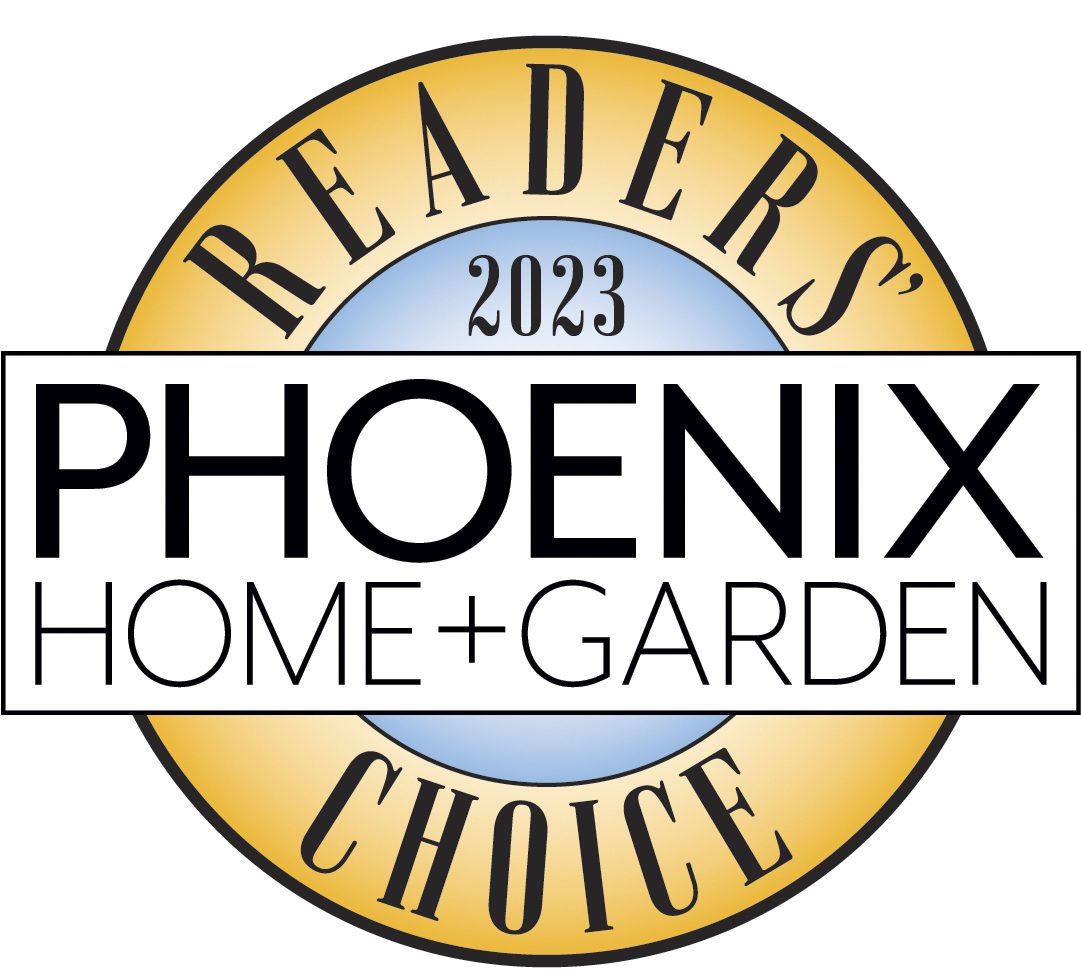 We are Phoenix Home & Garden Readers' Choice Award Winners!
We are delighted to announce that Premium Wholesale Cabinets has been awarded the 2023 Phoenix Home & Garden Readers' Choice award! This prestigious award from Phoenix's celebrated glossy honors "people and local businesses that make your home beautiful, your landscape lush or your lifestyle luxurious."
We are thrilled to have been nominated by Phoenix residents and to have our workmanship and customer service acknowledged by our friends!
Winning Customer Service
At Premium Wholesale Cabinets, customer service is at the heart of our mission. We understand that your living space is sacred – it's where you do your best work, connect with family, and entertain friends. Creating a space that suits your needs and our vision is our passion, and we strive to make it seamless and fun.
We go the distance to build a space that works for you. Down to the finest details of your cooking habits! Our team takes the time to get to know you, allowing us real insight into the space that is going to serve you best. It's not an "off the shelf' solution, but instead a lovingly crafted masterpiece made to enrich your life and home.
Because there is a world of options to choose, from raw materials, hardware, craftsmanship, and finish. You can feel confident our team is with you every step of the way to guarantee we will create a space you delight in. We aren't here to sell you something, but instead to co-create beautiful cabinetry that serves your home and family for years to come.
Something for Every Style and Budget
One thing that sets us apart from the competition is the dizzying array of premium cabinets we offer. No matter your needs, taste, or bottom line, we have something to fit the bill.
At Premium Wholesale Cabinets we offer a curated selection of the industry's best aesthetic kitchen and bathroom cabinetry to suit a range of budgets and tastes. Domestic and imported, we have that perfect something to complete your aesthetic kitchen design or renovation. With a suite of colors, glazes, and materials, we'll elevate your space with quality workmanship and design. From solid wood doors, hand rubbed finishes, and quality components such as soft close drawers, expect the best. Know that one call to Premium Wholesale Cabinets of Arizona is all you need to take your kitchen or bathroom to new heights.
We carry premium cabinetry brands such as:
Greenfield Cabinetry
Siteline Cabinetry
Waypoint Living Spaces
WoodMode
Danver Stainless Outdoor Kitchens
Envoy Cabinetry
ERA Cabinetry
Bridgewood Cabinetry.
Design to Impress
Our designers bring to every project a level of insight and acumen that ensures your finished space will exceed your expectations in both form and function. To begin, we first meet with clients to gain a nuanced understanding of how they use their home. We dive deep into details of time and motion – including the space's ideal layout and flow. We take into account how you live in your space to implement a design philosophy that creates the best possible experience for you, your family, and your guests. Next, we talk form and finish. Our designers work tirelessly alongside each client to understand their taste, style, and vision to create a space that inspires. Our team's level of experience instills confidence, so you can enjoy the process and the thrill of custom workmanship!
Need Some Inspiration?
Our gallery is your go-to destination for design ideas and inspiration. You'll find beautiful designs from classic to modern, a host of creative solutions to space constraints, and artful execution in every room of the house!
We believe the best promotion of our business is the work itself. Our team is committed to perfection when it comes to aesthetic kitchen makeovers, bathroom designs, custom cabinetry, and everything in between. Our customers' satisfaction, our attention to detail, and unparalleled service are the heart and soul of our business.
You can count on our designers to bring skill and artistry to every project. They are innovative, creative, and passionate about seeing your vision and creating beautiful designs, all within budget. This is the ethos that wins awards!
The Word is Out
Our clients have spoken – Premium Wholesale Cabinets is their trusted name in cabinetry for unmatched service and superior skill. Come see what all the fuss is about!
Our job at Premium Wholesale Cabinets is to understand your needs, style, and space and make a plan that fits your budget. With over 100 years of combined design experience, our team understands the nuances of each project and delivers inspiring results. Get in touch for an estimate and get started on your project today!
A wholehearted thank you to everyone who voted for us! You made us a winning name in Phoenix cabinetry!